Youth Barbershop Quartet Contest registration is now open
Posted on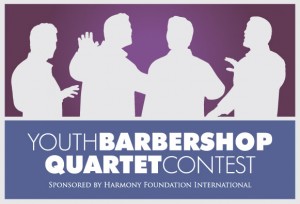 Four men, singing a cappella barbershop harmony, in front of an audience. That's all it takes to get started in a fun and exciting form of music that can take you literally around the world and change your life forever.
Registration and entry forms are now online for the next season of the Youth Barbershop Quartet Contest, sponsored by Harmony Foundation International. Yep, the name and image have been refreshed, to drive us ever outward in reaching more singers than ever before. (See also the sites and dates of qualifying events.) 
Extensive discussions among past participants, fans and leaders brought about a number of changes to the event going forward.
We're looking forward to a BIG year for young singers!