Quartet resource project needs your insights
Posted on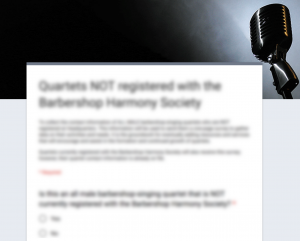 Quartet singing lives at the heart of the Barbershop Harmony Society, and a new project aims to inject additional vigor and resources into the formation and continued growth of quartets.
The initial research phase begins this month with a brief survey of existing male quartets regarding their activities/needs. The scope extend beyond BHS-registered quartets to include casual quartets, non-registered groups, and non-Society groups as well.
We need your help!  If you are aware of a quartet singing in your chapter, division, or district that isn't registered with BHS, please help us connect to them by entering their basic contact in this  Google form. If you have any questions about this pilot project, please reach out to us at customerservice@barbershop.org.