Our busiest season is even busier in 2017!
Posted on
Have you contacted our Customer Service team at Harmony Hall lately?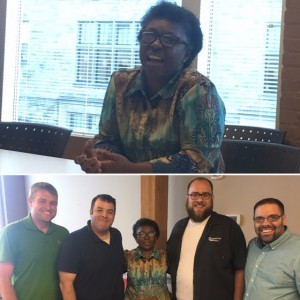 Based on our recent call volumes and email traffic, the answer is probably "YES!" —  we've seen a 95% increase in email messages and a 71% bump in calls over the past few months. This higher demand is likely due to several new initiatives announced, the Member Center transition, and the start of the fall convention season. The good news is that our response rates are up 65%, and we're steadily working through your questions and requests. Our response times may not be as fast as usual, so we thank you for your patience as we work hard to keep pace during a busy season.
As a number of inquiries have risen dramatically, we have also seen the size of our team change. At the end of the summer, we said a reluctant goodbye to Jacqueline Robinson who has been answering your calls and serving members for nearly nine years. We wish her well in her next endeavor, which will include some time for travel and family. Naturally, our farewell toast included a quartet performance of From the First Hello… We thank you for your dedicated service, Jacqueline!
So, what's next for our team?
We're actively looking for our next Customer Service superstar… maybe you! As the first point of contact at Harmony Hall for our passionate members and associates, as well as barbershoppers around the world, the Customer Service team provides support in a variety of areas, answering questions about membership, contests, and events… and hundreds of other topics. We can promise 
a fast-paced, service-oriented environment
 and a team that is ready to help you succeed.