SING AND SERVE AT SECOND HARVEST FOOD BANK
Join your fellow barbershoppers during International to help end hunger in Central Florida. Here's your chance to give something back to the local community and share the joy of singing. Enjoy a special visit by one of our top quartets!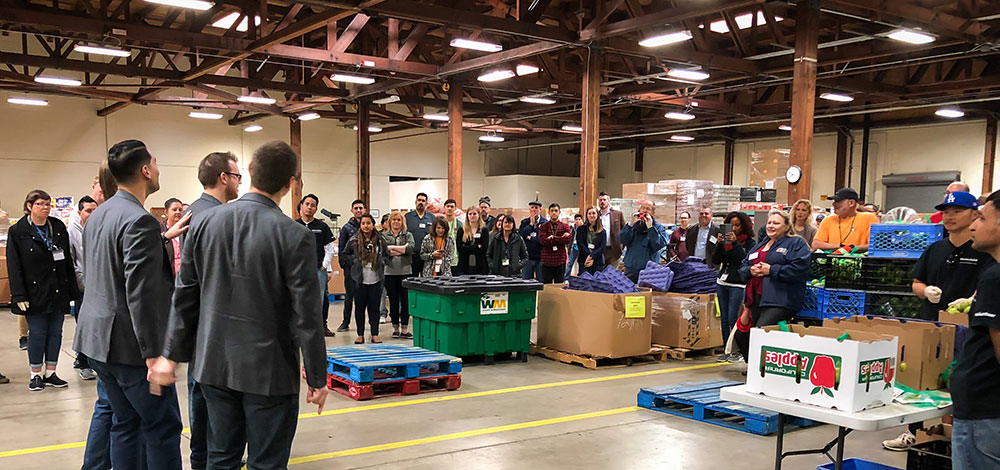 After Hours – Second Harvest Food Bank – Orange County, CA – Midwinter 2018
Date: Friday, July 6th, 2018
Time: 8:15 a.m. – 11:30 a.m.
Approximate # of Volunteers: 20 adults
**All adults are required to register and sign up for the event at: http://barbershopharmonysociety.shfbcf.volunteerhub.com Just click the link, click "Donation Sorting" on the calendar, and then click "Sign Up" You'll be prompted to either create a new profile or enter your username and password.**
Location
Second Harvest Food Bank of Central Florida
411 Mercy Drive, Orlando, FL 32805
Please plan to arrive 10 – 15 minutes prior to the start of the shift to allow time for all volunteers to check in and begin on time.
Sign Up
Online signup through th​is​ link is required
Each participant must complete their own registration and sign up
Volunteers must be at least 10 years old with a chaperone who is 18 years or older in order to help out in our facility, 16 years old without a chaperone.
Accompanying adults must supervise minors at all times and volunteer alongside them
At least one adult chaperone must be present at our facility until every minor has been picked up from the volunteer event
What to Wear and Expect
Closed-toed shoes are required
The temperature in the distribution center is similar to the temperature outside. We recommend wearing comfortable clothing accordingly
We recommend not bringing any valuable items with you as we are not responsible for any lost or stolen items
The Impact of Your Volunteer Experience
Volunteers are the heart and soul of Second Harvest. You bring our mission to life and make up the equivalent of ~40% of our workforce – we literally cannot accomplish our mission without you!
Help us in our mission to end hunger in Central Florida by sorting and packaging donated food items in our food distribution center
All food is ultimately distributed to individuals and families in need in Central Florida
Together we are creating a future in which no one goes hungry. Ever.
Food and Monetary Donations
If you would like to bring your own donations to your volunteer event, our current, most-needed items are:

Fruits: Canned fruit (in its own juice, no sugar added varieties), dried fruit, 100% fruit juice
Vegetables: Canned vegetables (reduced salt/no salt varieties), 100% vegetable juice, spaghetti sauce
Grains: Rice, pasta, crackers (whole-grain varieties), ready-to-eat cereal (low sugar/high-fiber), oatmeal
Protein Foods: Canned meat/poultry, canned tuna/salmon (packed in water), canned/dry beans & peas (low/no salt varieties), peanut butter
Dairy/Dairy Alternatives: Nonfat dry milk, evaporated milk, soymilk
Meals: Beef stew, canned soup (reduced sodium varieties), chili, other canned meals
Other: Nutritional drinks (ex: Ensure, Boost)
Baby Food: Must be in complete, undamaged original packaging. No individual serving glass or plastic containers unless in an unopened case
Non-food Items: Diapers, toiletries (soap, shampoo, shaving cream, etc.). Must be unopened and stored separately from food donations

Monetary donations of any size are greatly appreciated! For every $10 contributed to our mission, we can distribute $90 worth of food. That's up to nine times more food than you would be able to access at retail (or even wholesale club) prices if you bought it yourself and gave the food. Click here to make a donation now.