Learn about changes to the program in the Frequently Asked Questions
A premier destination event for high school age choruses
It's a mountaintop experience: hundreds of young voices ringing in harmony for an enthusiastic audience of vocal music fans. In 2019, this will take place on one of the world's most revered stages: The Grand Ole Opry in Nashville.
The Next Generation Barbershop Junior Chorus Invitational gives your chorus the perfect mixture of fun, education, and opportunity for recognition and achievement, with some of the costs subsidized by your host!
Don't just show up and sing– show up and dive deep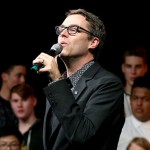 Every chorus sings for adjudication and plateau recognition, but the depth of learning comes in  individual coaching and group clinics.
World-class clinicians such as Kirby Shaw,  Deke Sharon (music director of the Pitch Perfect movies), ACDA Executive Director Dr. Tim Sharp, and Choir of the World Champions Westminster Chorus lead the combined choruses in workshops to develop a great ensemble sound, culminating in a command performance that caps the convention week. Singers come back energized and performing better!
What music should your ensemble sing?
Click here for detailed FAQs on what makes songs suitable for contest and how songs can be adapted for a wide range of voices.
Affordable — because we'll pick up the lodging and shows!
The Junior Chorus Invitational is within the reach of many ensembles, because we will cover the most expensive part – the hotels!
Your chorus pays a flat $300 registration fee, plus $100 per singer.
Convention registration and show tickets ($189 per person value!) — provided!
Luxury hotel accommodations for three nights (4 to a room), thanks to the generous donors of Harmony Foundation International — provided!
You are only responsible for your travel and food.
Be part of the fun!
Grand Ole Opry, Nashville Tennessee 
January 24-27, 2019
Don't miss this unique opportunity to sing in a storied hall and enjoy the sights of Music City USA.