A small number of gentlemen are making their way through the halls of a childrens hospital on a Thursday morning in Ft. Lauderdale, FL. The bright and colorful artwork adorning the walls and windows of the Chris Evert Childrens Hospital reflect the lives of the precious young children that fill the rooms. But this morning, something just as colorful will soon be reverberating off the walls, filling the halls with music and filling those at the childrens hospital with the joy of song.
Steve, David, Lew, and Zach are the four members of a barbershop quartet representing the Miamians Music Medics, and like many others across the Society, they are taking advantage of an opportunity to lift the spirits of those in need through the gift of music. For a brief moment in time, hallways filled with medical equipment tethered by wires and cords give way to hallways filled with the sounds of four-part harmony.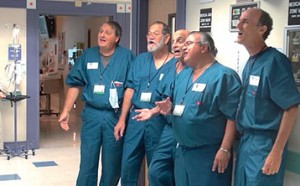 From room to room they went, wherever they were invited in, visiting individuals and singing a song or two for anyone who were able to listen. In one instance, a quietly sung rendition of Happy Trails caused a precious bedridden young boy to break a smile and show a palpable positive increase in vital signs from the monitors attached to his body, exciting the nurses who were standing close by. And this isn't an experience unique to just these individuals. All across the country, similar stories emerge of lives continually being touched and enriched through the power of simple harmony.
While barbershop is by no means the only form of artistic expression being used around the world to bring joy through song, those who have experienced the thrill of singing barbershop first hand will tell you that it truly is a joy unlike any other. And it might be fair to say, from the perspective of a barbershopper, that the artistic expression of singing in four-part barbershop harmony is never a chore and never work, but rather a natural reaction much like breathing or using the senses. It simply must happen. And once freed, it takes on a life of its own much to the delight of any and all sympathetic ears.
But most of all, barbershoppers and all musicians alike will probably agree, when it comes to expression through music, it's about giving the gift of song, and receiving a gift much bigger in return. And it's about making a difference through making music, and being irrefutably changed in the process.
Said Miamians Music Medics representative Ernie de la Fe, "I'm convinced that visiting these area childrens hospitals will be one of the best things we've ever done as a chorus." Thank you, gentlemen, for giving your time in such an unselfish manner, and here's to the many others who are doing the same across the world.
Start your own Music Medics Program!
Music Medics is designed to be an ongoing, permanent outreach project within your local community. The program is simple to manage, loads of fun, and can be incredibly rewarding on many levels. Briefly, Music Medics is all about sending quartets to sing exclusively at children's hospitals in your local area on a regular basis.
Download our Music Medics Guidebook here, or order a print version from Marketplace.