Music Educators College
Music educators can earn CEU or graduate credits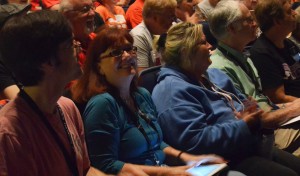 Whether you are a seasoned veteran, first-year teacher, or just about to graduate with your music degree, the Music Educator track at Harmony University is an opportunity to surround yourself with the worldwide experts of the barbershop style. Come learn everything you wanted to know about barbershop (and more!) – from history, to arranging, to vocal techniques.   We will place you all together in the Music Educators seminar at 10:30, then give you free choice to select just about anything you think is interesting to YOU!  If you are unclear, use the tab that gives "First year suggestions" to guide you with some specific classes that would give you a great overview.  We will even extend the offer for you to "float" and class hop.
Harmony University will offer Continuing Education Unit (CEUs) and graduate credits through Adams State. For further information, contact harmonyu@barbershop.org. Detail information will be provided in the Spring.
Educators from all over the world can't say enough about Harmony University
Viveka B.
Viveka B. from Sweden has experience directing mens and womens choruses, and was eager to attend HU to glean from the instructors to strengthen the culture of education she fosters in her ensembles.
Alan H.
Alan is a high school teacher from the UK and was able to attend HU through a scholarship. He attended Directors College to learn from the world-class directing staff at HU.
Ready to register?