GigSalad is delivering the bookings for Singing Valentines!
Posted on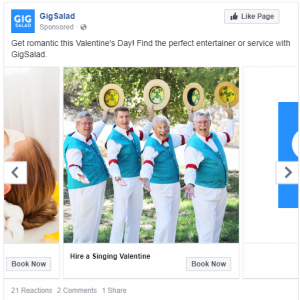 Our partnership with GigSalad is yielding results! Several groups that have signed up using our promo code BHS2018 have already gotten leads and bookings for this month. We've already seen nearly 30 confirmed February bookings on the platform through February 7th.
Pro and Featured accounts automatically bump to the top of any searches for "singing valentines", "singing telegrams" and other singing activities, so an inexpensive investment of less than $20 for your first month and 20 minutes of work can yield instant results.
Test this: go to GigSalad.com and search for "singing valentines" in your market. It will likely deliver results for "singing telegrams." No barbershop groups? Boom! Sign up now and be among the first search results in both categories. 
GigSalad is supporting Singing Valentines with Facebook advertising and links in its newsletters to existing customers already accustomed to booking entertainment online. GigSalad's strong SEO position (search engine optimization) means general searches on Google are enhanced by your GigSalad placement, too. 
Get on board with a Pro or Featured account using promo code BHS2018 and save 35%! Your listing can be live tonight, with plenty of time to pick up more Singing Valentines gigs. Walk through our tutorial to get up and running fast.  
Sample of the email marketing GigSalad is sending its existing customers.