Faculty applications open for Harmony University 2018!
Posted on
Harmony University is looking for a few good teachers!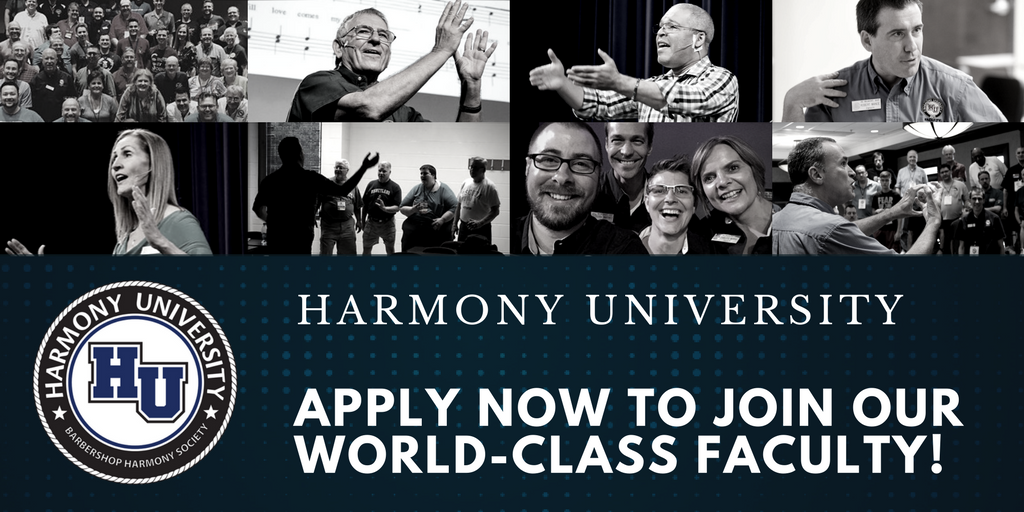 We are now accepting applications for Harmony University 2018! Our week-long event will be once again held at Belmont University in Nashville Tennessee, from Sunday, July 22nd to Sunday, July 29th, 2018.
As we have done for several years, applications are open to the general public.
 Even if you were not selected in the past, 
your application
 lets us know you are willing to serve and allows our HU selection team to review your application and potential fit for Harmony University. There are fantastic teachers out there that may not be on our radar and we want those folks to have a fair shot and open invitation to submit their materials.  We often have an abundance of riches in one area (say, conducting), but need people with special skills in another (say, private instruction)… and this balance changes from year to year.  Apply, so we can build a schedule full of variety for our students. 
How to Apply
If you (or someone you know) should be teaching with us at Belmont next July 22nd-29th, apply using the application link below.  It should only take 15 to 20 minutes.  We will let all applicants know our decision via email in early December.   
If you were HU Faculty between 2015 and 2017, you do not need to fill out this application. You will be contacted by Harmony University staff directly to discuss potential participation in 2018. 
If you were HU Faculty between the 1970's and 2014, please email harmonyu@barbershop.org and let us know you would like to return.  Our selection process has changed since you were last with us and we'd like to learn about your previous experiences at HU.   
If you filled out last year's application and were NOT invited to join us, we strongly suggest you fill it out again!  Our faculty choices are also driven by the types of classes offered so, if we have too many people already in category X and need more people in Y and Z, the solution for 2018 may be YOU.
A word about our selection process: We receive many applications from great people… some are unknown outside their District, some are " Barbershop famous".  Ultimately, our decision comes down to this: we are looking for exceptional teaching ability and a personable, encouraging demeanor.  We want the best of the best.  We welcome barbershop rock stars, local powerhouses, and hidden gems to apply. We review them all in the same way to create a vibrant, loving faculty that will teach our students well and leave them inspired. We aim for roughly 20% new faculty each year… in 2017, that was 17 new or returning-after-a-break faculty members!
In the end, it comes down to excellent teaching skills and the ability to connect with our students. If this is you, we want to hear from you!
Apply here: 
https://barbershopharmonysociety.submittable.com/submit/95150/harmony-university-faculty-application-2018