2018 – After Hours
Flawless harmonies and jazzy  interpretation propelled After Hours  to the pinnacle of a cappella singing, as it captured the 2018 international quartet championship of the Barbershop Harmony Society on Saturday, July 7 in Orlando.
Singing a range of songs from Broadway including "Butter Outta Cream" from Catch Me If You  Can, "The Next Ten Minutes" from The Last Five Years, and classics like "Honeysuckle Rose," the quartet  posted the highest winning score in the history of the annual competition, now in its 80th year.
The quartet edged out strong challenges from the silver medalist Signature, who brought smoky intensity to blues-tinged numbers like Ray Charles' "Hard Times (No One Knows Better than I)" and the pop/country stylings of Throwback. 
The top five finishers were:
After Hours,  8523 points,  94.7%
Signature, 8442 points,  93.8%
Throwback, 8205 points,  91.2%
Quorum, 8115 points, 90.2%
Stockholm Syndrome, 8093, 89.9%
The members of After Hours  are:
Tim Beutel, tenor — Tremont, Illinois
Drew Ochoa, lead — Windermere, Florida
Bryan Ziegler, bari — Madison, Wisconsin
Dan Wessler, bass — Freeport, Illinois
2017 – Main Street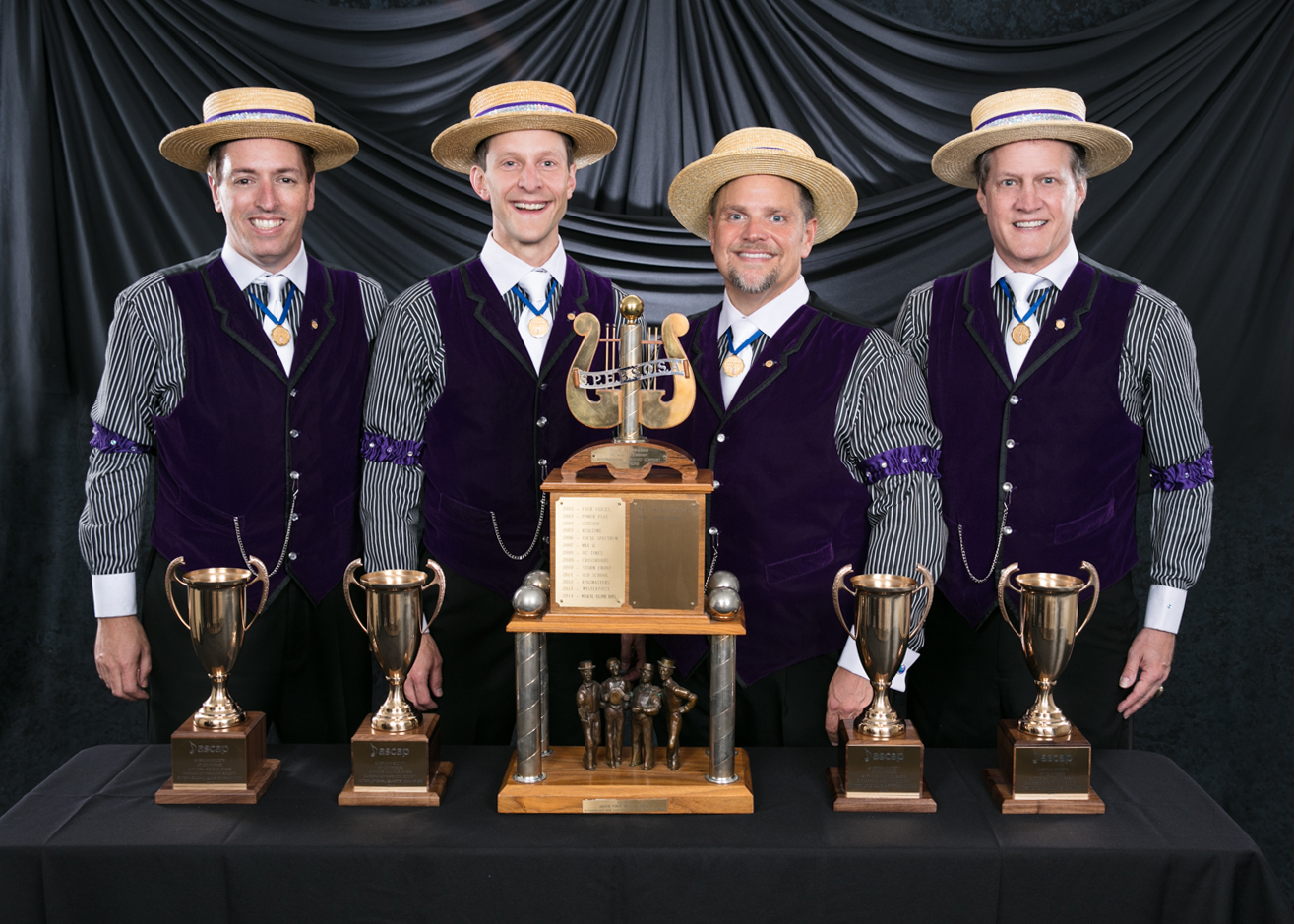 Roger Ross, Tony De Rosa, Mike McGee, Myron Whittlesey
In 2011 at the International Convention in Kansas City, a quartet based out of Florida named Main Street took the stage and immediately set themselves apart from the crowd. They took many combined years of experience singing together at Disney World, combined it with Vaudeville-style eyeroll-worthy joke-infused hilarity, threw in some smooth choreographed toe-tapping dance moves, and topped it off with a beautiful, rich, warm sound that wowed the audience and brought home a bronze medal in only their first contest.
The dapper gentlemen of Main Street certainly did paid their dues on the contest stage, however. They finished 5th in 2011, then 5th in 2012, then 4th in 2013, then 3rd in 2014, then 3rd in 2015. Then 3rd… AGAIN… in 2016, and finally gold in Vegas in 2017. While their winning contest sets in Vegas were magical for them and the audience, all their work on the contest stage in past years hasn't gone unnoticed. Their "Pop Songs Medley" in 2015 in Pittsburgh, for example, struck a chord with the audience as well as the internet with their YouTube video going viral, quickly becoming one of the most popular barbershop videos of all time.
Congratulations to Main Street, a quartet with grace, charm, style, and a sound that will no doubt set them apart for years to come.