Antonio Lombardi honored in Nashville Business Journal "Employee of the Year" awards
Posted on
It's nice when your co-workers say nice things about you behind your back. It's even nicer when those nice words turn into citywide recognition.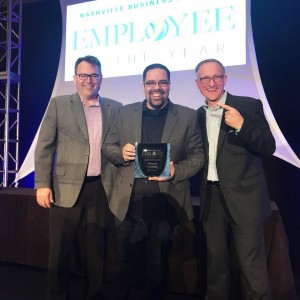 An anonymous tip from a co-worker led to Manager of Chapter Leadership and Education Antonio Lombardi being honored in the inaugural class of Employee of the Year awards from the Nashville Business Journal. Antonio was recognized in the category of Best Support, alongside professionals in the health care, media, public administration, and financial sectors. 
The adjudication panel particularly praised Antonio's willingness to step forward to help wherever and whenever needed, regardless of job titles and lines, and were excited to see this level of responsibility and savvy in a worker in his mid-20s.
A Barbershopper since age 15, Antonio joined the Society staff in 2016 after many years in leadership of the Northeastern District, as District Secretary, organizer of youth camps, and as an active quartet singer in youth and open divisions. His main focus in the education department is supporting the Healthy Chapter Initiative with resources, leadership training, and liaison to development activities of the Leadership Operations Project Team, plus ongoing support of Harmony University.
With typical humility, Antonio reflects the praise back onto his co-workers at Harmony Hall and the Society as an organization. Earlier this year, the Society received recognition as a "Best Place To Work" by both The Nashville Business Journal and by The Tennesseean. "It says a lot about the Society that we're recognized as a great place to work, but it comes down to having a great group of employees." Being one of the few nonprofits honored reflects the quality of the work we're doing for the greater good, he says. "If we can continue to be of service not only to our colleagues and members, but to the great community as a whole, we'll be going in the right direction."
Antonio is particularly grateful to his barbershop mentors growing up. "I started at age 15, and it hasn't been just about the music, but about becoming a better person, becoming a more career-focused individual, and I owe a lot of that to people within the organization."
CEO Marty Monson and Director of Harmony University Donny Rose joined Antonio at an awards breakfast hosted by the Nashville Business Journal. No word on whether they squeezed in a tag before coffee.