Aca-Scuse me? We can sing with VOCALOSITY?
Posted on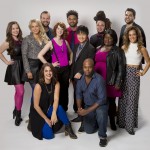 Yup. Here's the dealio: irrepressible aca-promoter Deke Sharon sees part of the mission of the show as leading the huddled masses yearning to be freed of instruments to great local  singing outfits. He's encouraging all venues on the tour to offer the Aca-Performance of A Lifetime:
VOCALOSITY's "Aca-Performance of a Lifetime" contest is an opportunity for local communities to get their local a cappella groups excited about the upcoming VOCALOSITY tour by presenting an opportunity to perform as the "opening act" for their VOCALOSITY engagement. Contestants must submit a 1-2 minute video recording of their a cappella group performing any contemporary song and upload to YouTube. 
As of today, the following shows have announced the contest:
Ft. Lauderdale, FL
Sunday, January 17, 2016
parkerplayhouse.org/events/detail/vocalosity
Entry deadline: Friday, December 11, 2015
Austin, TX
Friday, March 4, 2016
thelongcenter.org/event/vocalosity/
Entry deadline: Tuesday, December 1, 2015
Kutztown, PA
Wednesday, February 17, 2016
www2.kutztown.edu//events/ku-presents/vocalosity.htm
Entry deadline: Tuesday, January 6, 2015
We'll keep tracking opportunities here, but the quickest way to stay up to date is to follow the show on Facebook www.facebook.com/vocalositytour