Alexandria Harmonizers prepare to sing with Kristin Chenoweth, Andrew Lippa this weekend
Posted on
Thoughts from Alexandria Harmonizers director Joe Cerutti, as the chorus prepares for an new artistic adventure this weekend:
Today we begin our final week of rehearsals for I Am Harvey Milk, with award-winning Broadway composer Andrew Lippa, renowned singer and actor Kristin Chenoweth, and the National Philharmonic under the baton of Joel Fram.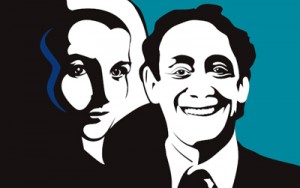 To say that I've been anticipating this week would be an understatement. Participating in such a professional and artistic endeavor is an honor that we will never forget!
Rubbing elbows with such artistic royalty comes with expected excitement and nervousness, but the true unexpected highlight of the entire experience has been the journey we have taken preparing this musically challenging and emotionally taxing masterwork, an experience that is difficult to capture in words.
The Harmonizers have been fortunate to participate in some of the most prestigious events over our almost 70 year history and this event ranks among the very top experiences for so many unique reasons. I am indebted to the organization and its members for their commitment and dedication to such an important endeavor.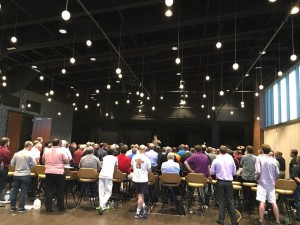 I think Owen C. Cash, co-founder of the Barbershop Harmony Society, summed it up best when he said the following almost 70 years ago in a Harmonizer article in September of 1948:
"I am always impressed with this operatic stuff that some of the quartets indulge in occasionally. At the next Convention I wish… any other quartets that sing this type of numbers would get together in a chorus, wash their necks and ears, take a hot bath, put on white ties and tails, and in all seriousness and dignity, present a few good classical numbers, just to show the world that barbershoppers can do these things even better than the Metropolitan Opera outfit… Now don't start accusing me of getting away from 'barbershop.' I like any kind of singing if done by barbershoppers, and they are the guys that can do it."
For more information, check out the following links:
An introduction from Andrew and Kristin: https://youtu.be/vWe2CghhxPc
Recent interview with Executive Producer, Rolando Sanz: http://www.classicalite.com/…/exclusive-strathmores-rolando…
Playbill's casting announcement: http://www.playbill.com/…/cast-announced-for-world-premiere…
Kristin Chenoweth rehearsing Leap from I Am Harvey Milk: http://www.buzzfeed.com/tomm…/kristin-chenoweth-harvey-milk…
For tickets visit https://www.strathmore.org/events-and-tickets/harvey-milk